Call for Papers of the 10th International Conference on
Intelligent Robotics Applications
2017年第10届智能机器人与应用国际会议第二轮邀请征文启示
Time: August 15-18, 2017 (registration on August 15, 2017)
Location: Wuhan
Sponsor: National Natural Science Foundation of China, Huazhong University of Science and Technology
Organizer: School of Mechanical Science and Engineering, Huazhong University of Science and Technology, State Key Laboratory of Digital Manufacture and Equipment
Website: http://www.icira2017.org
举办时间:2017年8月15至18日(2017年8月15日报到注册)
举办地点:武汉
主办单位:国家自然科学基金委员会、华中科技大学
承办单位:华中科技大学机械科学与工程学院、数字制造与装备国家重点实验室
1.An Introduction of Conference 会议介绍
ICIRA is one of the international conferences in the field of robotics. So far, the conference has been successfully held for nine times. It has been held by China, Singapore, Germany, Canada, Korea, Britain, Japan and other internationally renowned robot research institutions in the past nine years. The symposium will be published by Springer, which is an internationally renowned publishing house. It has become an important influential international academic conference in the field of robotics. The 10th International Conference on Intelligent Robotics Applications will be sponsored by State Key Laboratory of Digital Manufacturing and Equipment, School of Mechanical Science and Engineering, Huazhong University of Science and Technology. For further information, please pay attention to the official home page http://www.icira2017.org and the official WeChat public number ICIRA2017 intelligent robot and application.
ICIRA会议是机器人领域的系列国际会议之一,到目前为止,该会议已连续成功举办了九届,先后由中国、新加坡、德国、加拿大、韩国、英国、日本等国际知名机器人研究机构和学者轮流举办,论文集由国际知名出版社Springer出版,已成为机器人领域具有重要影响力的国际学术会议。第10届会议由华中科技大学机械学院和数字制造与装备国家重点实验室承办。有关会议的最信息请关注目前相关信息已更新至官方主页http://www.icira2017.org和官方微信公众号"ICIRA2017智能机器人与应用"。
2. Topics of Interests 会议主题
A. Robotics: Collective and social robots; human-robot interaction; Mobile robots and intelligent autonomous systems; Robotic vision, recognition and reconstruction; Multi-agent systems and distributed control; Robot intelligence, learning and linguistics; Robot design, development and control; Robot motion analysis and planning; Medical robot; Robot actuators and sensors; Robot cooperation; Robot legged locomotion; Robot mechanism and design; Perception and awareness; Space and underwater robots; Virtual and augmented reality; Navigation/Localization
机器人学:人机交互,移动机器人,机器视觉、识别和重构,社会服务机器人,群体机器人,多智能体系统和分布式控制,机器人运动分析与规划,医疗机器人,机器人传感器和驱动器,机器人协同,机器人上肢/下肢运动,机器人结构与设计,机器人知觉与意识,空间与水下机器人,虚拟与增强现实,导航与定位。
B.Automation: Adaptive and learning control system; Advanced control and informatics; Computer integrated manufacturing; Embedded sensors and actuators; Estimation and identification; Factory modeling and automation; Fault detection, testing and diagnosis; Flexible manufacturing systems; Fuzzy and neural systems; Man-machine interactions; Modeling of complex systems; Process control and instrumentation; Motion control; Micro and nano systems; Nonlinear systems and control; Optimal control; Rotating system dynamics and control; Sensors and transducers; Smart structures & materials hybrid; Stability and stabilization
自动化:自适应与学习控制,先进控制与信息学,计算机集成制造,嵌入式传感器与驱动器,系统辨识,工厂建模与自动化,故障检测、测试与诊断,柔性制造系统,模糊与神经系统,人-机器交互,复杂系统建模,工艺控制与仪表,运动控制,微纳系统,非线性系统与控制,最优控制,旋转系统动力学与控制,智能结构与材料,稳定性与稳定化。
C.Mechatronics: Advanced measurement and machine vision system; Flexible electronics/sensors; Smart/Electrical skin; Drives and actuators' modeling; Education in mechatronics engineering; Micro-electro-mechanical systems; Multi-sensor data fusion algorithms; Mechatronics in energy systems; Motion vibration and noise control; Real-time and hardware-in-the-loop simulation; Sensing of small quantities; Aerospace engineering; Automotive systems; Data storage systems; Electronic packaging; Micro/nano technology; Opto-electronic systems; Prototyping
机械电子,先进测量与机器视觉,柔性电子与传感器,智能蒙皮与电子皮肤,驱动建模,MEMS,多传感器数据融合,能源系统机械电子,振动与噪声控制,实时与硬件仿真,航空工程,数据存储系统,电子封装,光电系统,快速原型。
D.Especially, the harmony of robot with human, environment and robot is critical for the ultimate nature of Coexisting-Cooperative-Cognitive Robot (Tri-Co Robot). It becomes one of the main topic of ICIRA 2017.
特别地,机器人与人、环境、机器人之间的协调,最终实现人-机-环境共融(Coexisting-Cooperative-Cognitive Robot (Tri-Co Robot)),这也是ICIRA 2017的重要主题。
3.Sessions分论坛
1

Coexisting-Cooperative-Cognitive

Robotics (Tri-Co Robotics)

共融机器人

2

Soft and Liquid-metal Robotics

软体与液态金属机器人

3

Micro-nano Robotics

微纳机器人

4

Swarm Robotics

群体机器人

5

Rehabilitation Robotics

康复机器人

6

Aerial Robotics

飞行机器人

7

Underwater Robotics

水下机器人

8

Space Robotics

空间机器人

9

Parallel Robotics

并联机器人

10

Bio-inspired Robotics

仿生与类生机器人

11

Autonomous Mobile Robotics

自主移动机器人

12

Robot Grasping and Manipulation

机器人操作与抓取

13

Robotic Path Planning and Navigation

机器人规划与导航

14

Robotic Dynamics and Control

机器人动力学与控制

15

Robotic Structure Design and Mechanism

机器人设计与机构学

16

Multi-mode Sensing and Data Fusion

多传感器与数据融合

17

Sensors and Actuators

传感器与驱动器

18

Flexible and Wearable Sensors

柔性与可穿戴传感器

19

Human-Machine Interface

人机交互

20

Computer Vision

机器视觉

21

Virtual Reality and Augmented Reality

虚拟现实与增强现实

22

Artificial Intelligence

人工智能算法与应用

23

Applications of Industrial Robotics

工业机器人应用

24

Robotics for Manufacturing

机器人加工

25

Intelligent Manufacturing and Metrology

智能制造与先进测量

26

3C Robotics

3C工业机器人

27

Big Data and Deep Learning

大数据与深度学习

28

Mechantronics and Automation

机电一体化与制造自动化

More sessions will be updated continually.

If you are interested in organizing, please feel free to contact us.

更多在建机器人主题持续更新中,如果您有兴趣组织,请随时联系会务组。
4.Important Dates 重要日期
| | |
| --- | --- |
| Invited Session Proposal 分论坛主题提案 | 2017.3.31 |
| Submission of Papers 论文提交 | 2017.4.10 |
| Paper Acceptance 录取通知 | 2017.5.10 |
| Early Bird Registration 先期注册 | 2017.5.20 |
| Submission of Final Papers 论文全文提交 | 2017.5.31 |
| Conference 大会时间 | 2017.8.15-8.18 |
5. Paper submission (投稿方式)
Submission website:www.icira2017.org
Contact: Ge Jinrong (secretary)
Tel: 027-87559414
Email: icira2017@hust.edu.cn
网站投稿系统投稿网址:www.icira2017.org
联系人:葛锦蓉(秘书)
电话:027-87559414
Email:icira2017@hust.edu.cn
二 维 码: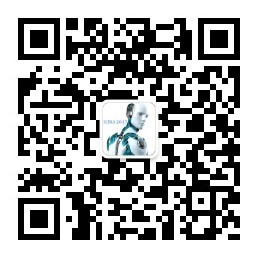 公众号会议网址